Mr. Dalton graduated from St. Joseph's College (now St. Joseph's University) in Philadelphia, PA with a Bachelor of Arts in Political Science. He then graduated from the University of Tulsa Law School in 1977. Returning to the East Coast, he moved to Delaware.
Mr. Dalton was admitted to the bar in 1978. He served as Deputy Attorney General at the Delaware Department of Justice from 1978-1981. He served as Chief Deputy Attorney General from 1983-1987. He is also a member of the DC Bar and the bars of the District of Delaware, The Third Circuit Court of Appeals, and the United States Supreme Court.
Mr. Dalton began his Delaware practice as Deputy Attorney General for the Delaware Department of Justice. As a Deputy Attorney General, from 1977-1981, Mr. Dalton was placed into various special units and was Chief of the Sex Crimes Unit. He spent time in Juvenile/Family Court, the Trial Division and the Rape Unit. He left the Department of Justice in 1981 for private practice as an Associate at Brandt & Benson, P.A. After a brief term in private practice, he returned to become the youngest Chief Deputy Attorney General in Delaware's history. Serving from 1983-1987, Mr. Dalton was involved in the day-to-day supervision of the criminal, civil and appellate divisions of the Attorney General's Office while continuing to try some of the most serious cases in that office. After serving as the Chief Deputy Attorney General until 1987, Mr. Dalton moved to private practice as a partner in the firm of Brandt and Dalton.
In 2000, the firm was renamed and became Dalton & Associates. Although he continues to represent the victims of medical negligence and personal injury, the firm has expanded to represent clients in various areas of trial practice and appeals. Those areas include business litigation, white-collar defense, sex abuse, and civil rights. Mr. Dalton has tried cases to juries that have resulted in the largest medical malpractice and largest automobile accident verdicts in the state's history. He has also been involved in cases involving significant business, white-collar defense and civil rights litigation.  Mr. Dalton has been one of the lead lawyers representing plaintiffs in the largest sex abuse cases in the country's history. They have included cases against several institutions regarding Larry Nasser and hundreds of gymnasts who were abused. The institutions included Michigan State University, the United States Olympic Committee and currently the FBI. Other cases have included hundreds of survivors involving the University of Michigan, various religious orders/clergy abuse and health systems involving physician abuse of patients.
Mr. Dalton is a Fellow of the American College of Trial Lawyers and is the Past President of the College. He was inducted as President of the College in September 2016. He was recently elected as a Trustee to the Board of Trustees on the Foundation of the American College of Trial Lawyers.  This foundation funds projects throughout the US and Canada which concern Access to Justice Issues.  He is also a Fellow of the International Academy of Trial Lawyers. He is a frequent lecturer in areas of trial and appellate law and has been on the adjunct faculty of Drexel Law School and Widener Law School.  He has also lectured physicians, residents and medical students at various hospital systems including Johns Hopkins, Columbia, Jefferson and Christiana Care.
He has received numerous awards including being listed in Best Lawyers in America for 30 consecutive years. He has been named Lawyer of the Year for both personal injury and medical malpractice litigation for Delaware for many years. He has been named Best Medical Malpractice Lawyer by Delaware Magazine every year it has been published and has been listed by Philadelphia Magazine, Top 10 Lawyers in Delaware since it was published in that magazine.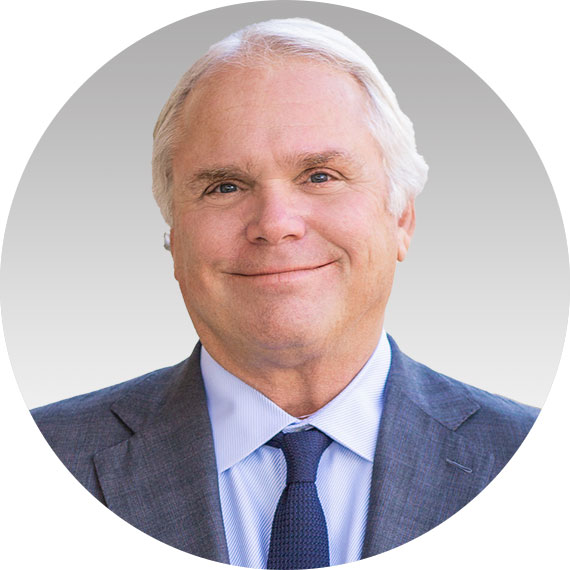 Lead Lawyer and Director
Education
University of Tulsa, J.D., 1977,
St. Joseph's College, B.A., 1974
2004 Fellow, 2005-2007 DE State Chair, 2009-2013 Board of Regents, 2014-2016 Executive Committee
Best Lawyers of America
1993 - 2020

Best Lawyers - Personal Injury Litigation - Plaintiffs, Wilmington, DE 2009

Fellow-Litigation Counsel of
America

Top Medical Malpractice Lawyer in Delaware
1998-2021

Best Lawyer in America - Medical Malpractice
1993-2020

Top Ten Lawyers in Delaware
2007-2020

Lawyer of the Year – Personal Injury
2009, 2012, 2015

American Association of Justice

Fellow, International Academy of Trial Lawyers
2003

Lawyer of the Year – Medical Malpractic Plaintiff
2014

Delaware Today's Top Lawyer Medical Malpractice for Plaintiff and Personal Injury 2020

Delaware Today's Top Lawyer Medical Malpractice for Plaintiff, Personal Injury & Corporate Law 2021